Recipe for September 2017
Pumpkin, Kale, and Black Bean Stew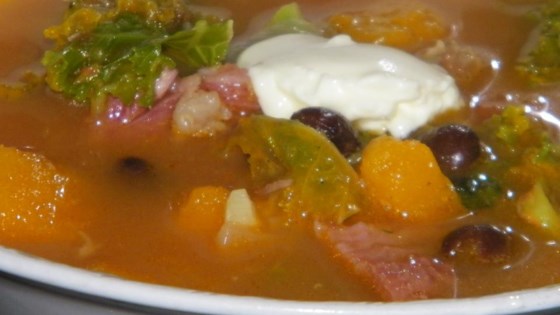 Ingredients
2 tablespoons extra-virgin olive oil
2 yellow onions, diced
5 cloves garlic, minced
1 small sugar pumpkin, peeled, seeded, cut into 1/2-inch dice
4 cups beef broth
1 (16 ounce) can diced tomatoes, undrained
1/2 teaspoon salt

 
1 teaspoon ground black pepper

 

1 bunch lacinato kale, stems removed, chopped
1 pound cubed cooked ham

 

1 (15 ounce) can black beans, rinsed and drained
2 tablespoons sherry vinegar
1 tablespoon thinly sliced sorrel
Add all ingredients to list

Directions
Prep

20

 m

Cook

50

 m

Ready In

1

 h 

10

 m
Heat olive oil over medium heat in a soup pot. Cook onion until it begins to soften, about 5 minutes. Add garlic and diced pumpkin and cook for another 5 minutes. Stir in the beef broth, tomatoes, salt and pepper. Bring to a boil, then turn heat to low and simmer until vegetables are tender, about 15 minutes.
While soup is simmering, bring a pot of salted water to a boil. Add the kale and simmer until softened, about 3 minutes. Drain into a colander.
After soup has cooked for 15 minutes, add the kale, ham, and black beans; simmer for another 5 minutes. Stir in the sherry vinegar and sorrel; remove pot from the heat.
Footnotes
Tip
Aluminum foil helps keep food moist, ensures it cooks evenly, keeps leftovers fresh, and makes clean-up easy.